How it works
Adjust wallpaper yourself in

3 steps
Below you can see how you can order customized wallpaper in just 3 steps. If you can't quite figure it out yourself, for example because you have a slanted wall, or a window or door that needs the wallpaper around, no problem at all. Call or email us and we will get back to you within 24 hours.
Step 1
Go to the wallpaper you would like to order.

Step 2
Click on the big button Customize Now.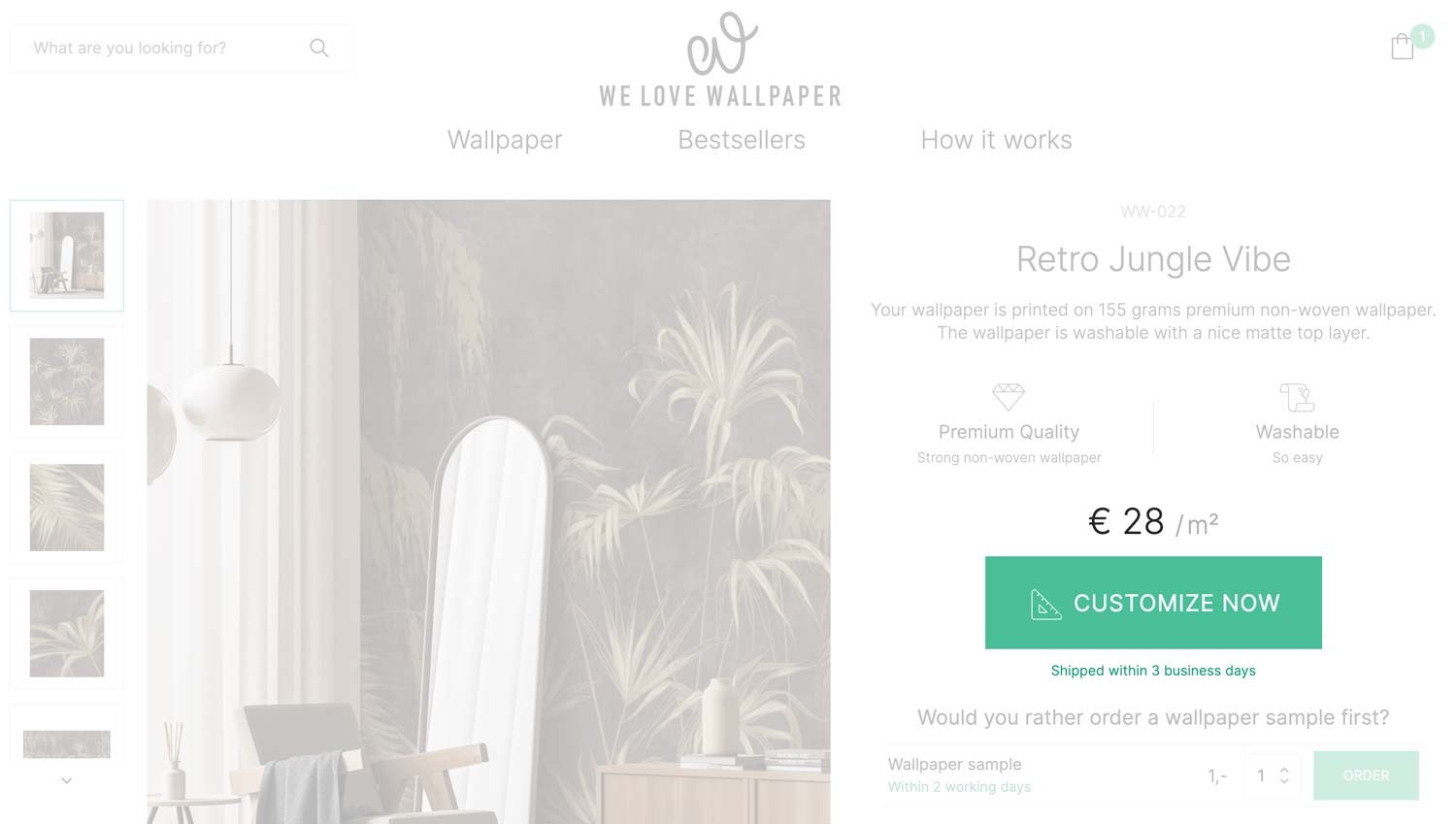 Step 3
Enter the width and height.
Take extra cutting loss into account and add 3 cm in width and 3 cm in height. Decide for yourself which part of the print you want on your wall. Click and drag the wallpaper to the desired position until you are completely happy.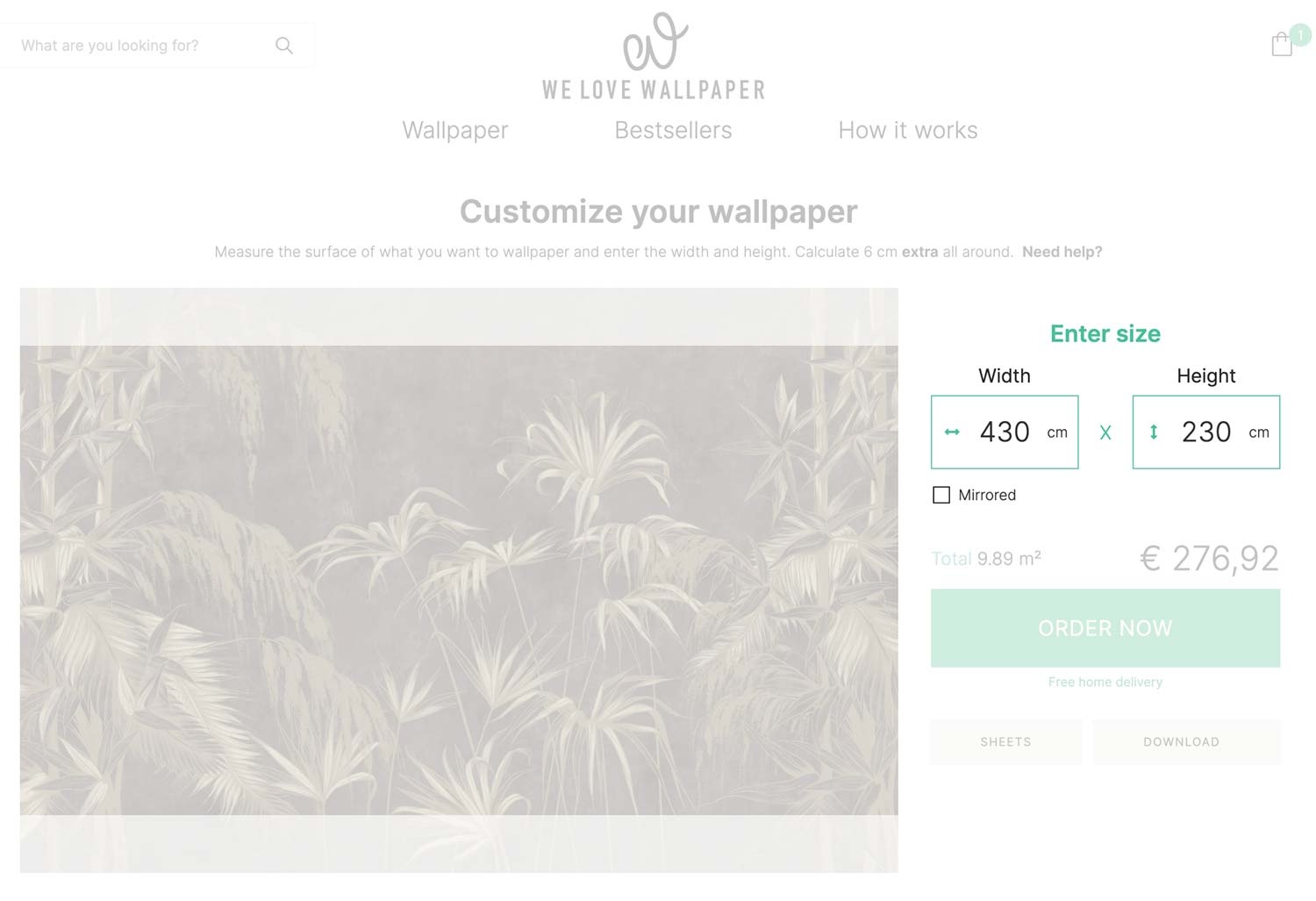 Attention
Tips for properly measuring your wall
No wall is straight. It is therefore very important that you measure the wall you want to wallpaper correctly. Here are some tips on how to do this the right way: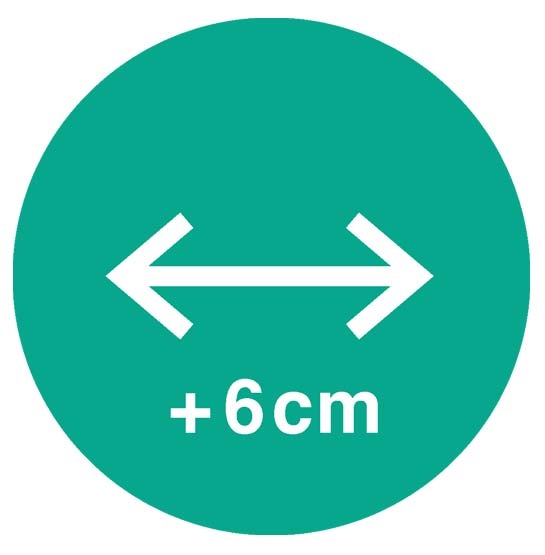 WIDTH
Measure the wall in width and
add 6 cm extra
. This way you can be sure that you will not be short of wallpaper.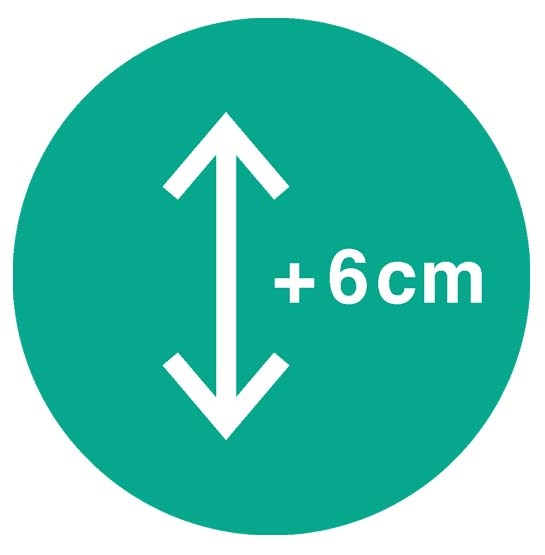 HEIGHT
Measure the height at two points: on the left and right side. Start from the highest point. Calculate
6 cm extra
.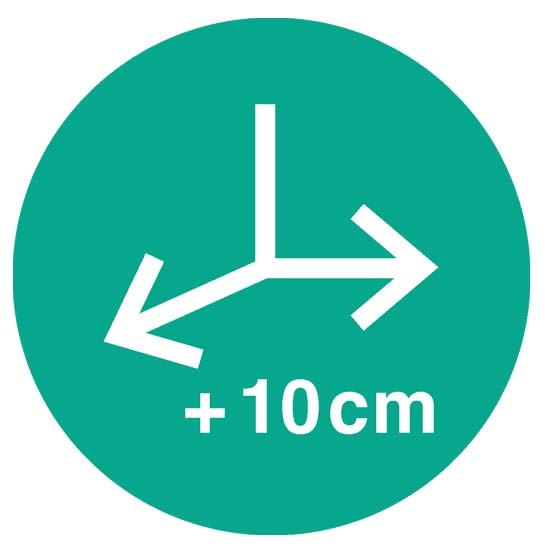 AROUND THE CORNER
If you want to apply the wallpaper on a wall that goes around the corner, add
10 cm extra
in width.
Shipped within 3 working days
To save time, we ship your order directly from our factory. It's even better for the environment too. As soon as your package has been sent, you will receive the tracking code from DPD in your mailbox. We ship throughout Europe and the USA.
Fixed price of € 28 /m2
All our designs are printed on premium non-woven wallpaper (155 grs/m2), matte with coating. The price of € 28 per m2 is including customizing the print file and the wallpaper itself.
We ship throughout Europe and the USA. Shipment costs depend on the country of delivery.
Professionals
Are you an interior designer and would you like to use our wallpaper for a project, please send us an email. We like to think along with you.
Need help?
We are happy to help you
Mon to Fri 09:00 - 17:00 hrs
We Love Wallpaper
Betuwestraat 25
1079 PR Amsterdam
The Netherlands